This February 4, 2018, the Migrant Mothers Project will host a community event in collaboration with a network of community groups and caregivers to share our findings from the Caregivers' Journeys Study and discuss ongoing issues with the "old" and "new" Pathways.
The event will feature a panel of advocates and caregivers to discuss current conditions in the old live-in caregiver and new caregiver program, as well as how to work with community legal services and language assessment centres. The event will also provide up-to-date legal information about applying for Permanent Residence. Various resources, such as "Signs of Abuse & Exploitation for Migrant Caregivers" information sheets, a policy brief on the Caregiver Program, and a poster that summarizes the findings of the Caregivers' Journeys study will be available to all who attend. There will also be resources from select agencies who serve caregivers at the event. Finally, we will discuss challenges for people in the new Caregiver Program and identify advocacy priorities through facilitated workshops, which include:
Signs of Abuse and Safety Planning for Caregivers
Family Reunification and Mental Health
Advocacy Strategy Session
We aim to inspire action and create a space for meaningful dialogue.
To close the event, members of the Caregiver Connections, Education, and Support Organization (CCESO) will hold a tribute for Coco Diaz, an esteemed advocate within the caregiver community.
Date: Sunday, February 4, 2018
Time: 1:00 PM to 5:00 PM (EST)
Location: Factor-Inwentash Faculty of Social Work, Room 320
246 Bloor St W Toronto, Ontario M5S 1V4 Canada
To register for the event and for more details, please follow this link to our Eventbrite page: https://goo.gl/PNfNps
Caregivers' Journeys is a participatory action research project that examines the impact of changes to the Live-in-Caregiver program in 2014 and the creation of the "new" Caregiver Program. Through interviews with 33 caregivers living in Toronto and Calgary, we explored work conditions for migrant caregivers and the impact of long processing delays on caregivers who have applied for permanent residence and await to be reunified with their families.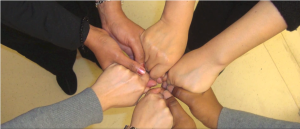 Some initial lessons from this research include:
While removing the "live-in" requirement allows some to live "a life of their own", many caregivers continue to live with their employers to comply with employer's wishes, but also due to high cost of setting up their own household on a low-income salary;
The Caregiver Program has created new barriers (education level, language requirements, the cap on PR, etc.) for caregivers to complete their 24 months of work and qualify for permanent residence;
Caregivers who are "released" by an employer or who need to change employers must wait on average of 8 months before they secure a new employer, for the employer to apply for the Labor Market Impact Assessment (LMIA) AND to apply for a new work permit;
The majority of Caregivers in our interviews face some form of abuse or exploitation: unpaid work hours, being denied food, emotional abuse, and sexual harassment
Caregivers delay seeking healthcare or experience serious gaps in health coverage during the initial three-month wait period and while waiting for work permits to be renewed;
Caregivers find support through informal networks, their faith community or social media (e.g. Facebook) to exchange legal, health, and employment information;
When Caregivers do seek social services, they encounter barriers to access because they must travel far distances and/or services only are offered during office hours when Caregivers are working.
In addition to our research activities we support ongoing advocacy efforts through:
Hosting representatives from Immigration, Refugees and Citizenship Canada for a community consultation with community partners and caregivers in June 2017
Supporting a petition to the House of Commons to end the backlog for caregivers' applications for permanent residence in collaboration with Ontario Council of Agencies Service Immigrants, KAIROS: Canadian Ecumenical Justice Initiatives, Kababayan Multicultural Centre, Migrante Ontario, among others.
For more information on the issue of family reunification for caregivers in Canada and to support our efforts to incite change, please follow this link to sign the petition: https://www.ipetitions.com/petition/petition-to-end-caregiver-pr-backlog-immediately
If you have any questions, please contact migrantmothersproject@gmail.com. We hope that you will join us on February 4th.